UK heat pump statistics
Are you looking for statistics on UK heat pump installations and market growth? Then look no further.
We have carefully selected, reviewed and organised a list of statistics below. Either jump straight to a category or keep reading for UK heat pump statistics.
UK heat pump installation statistics
These statistics show how the UK Government is doing with heat pump installation against the UK's target.
In 2021 the UK Government published its Net Zero strategy with a target to reach net zero greenhouse gas emissions by 2050 (UK Government).
The UK Government's Net Zero strategy stated its ambition that by 2035 no new gas boilers will be sold. (UK Government)
The UK Government Heat and Buildings Strategy 2021 set a heat pump installation target of 600,000 a year by 2028. This represents 2.5% of UK homes. (UK Government)
According to the UK Parliament, only around 72,000 heat pumps were installed in 2022. This falls woefully short of the government's target. (UK Parliament)
To date only 370,000 heat pumps have been installed in the UK. (European Heat Pump Association (EHPA))
At the current rate of installation it would take 700 years to hit the UK Government's heat pump installation target. (UK Energy Research Centre)
Only 5% of the UK's total heat pump demand in buildings is currently met by low-carbon heating. (UK Energy Research Centre)
In 2022 France within the EU, France sold the most heat pumps. 621,776 were sold in France, compared to only 55,168 in the UK (EHPA)
Air-source heat pumps are the most common type of heat pump installation in the UK
Within air source heat pump installations, air to water heat pumps represent 90% of all heat pumps installed. (EurObserver)
There are around 3000 heat pump installers in the UK. This is far short of the 27,000 required by 2028 to meet the Government's target. (NESTA)
The UK will need to train 5000-7000 installers in the next decade if it wants to meet its target (NESTA).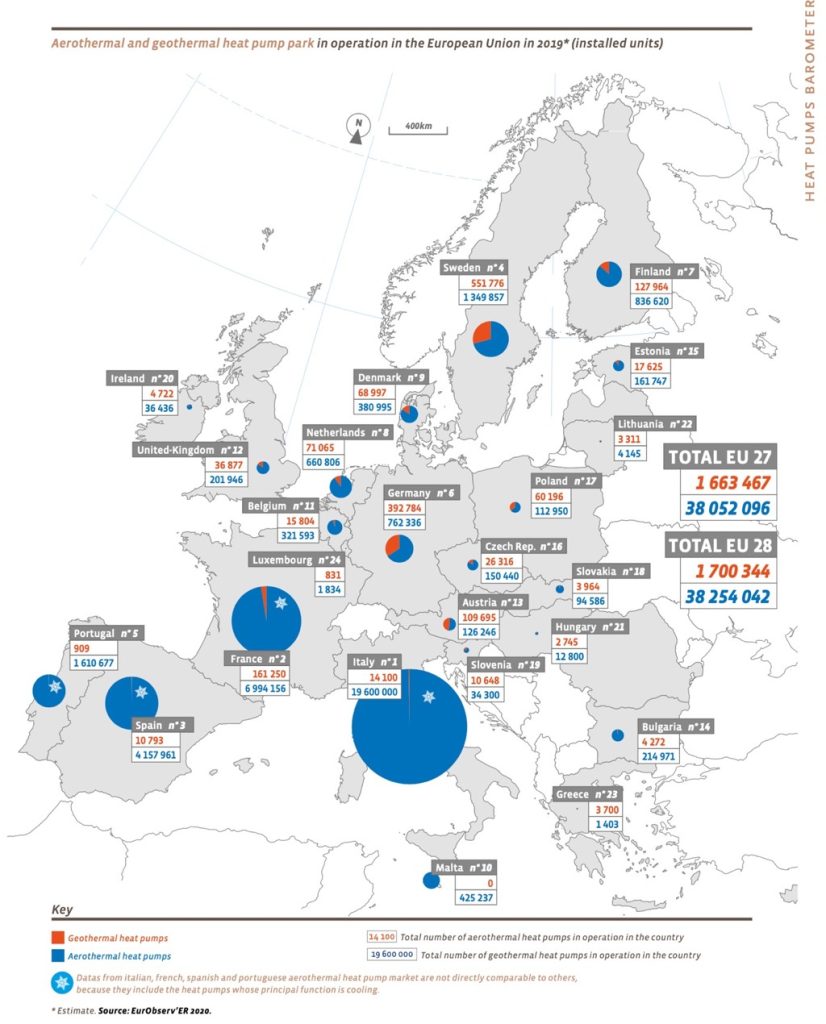 Statistics on the use of heat pumps in the UK
These statistics relate to heat pumps and UK carbon emissions and energy usage.
UK heat pump cost statistics
These statistics relate to UK households and the cost of heat pumps (installation and running costs).
Attitudes to heat pumps in the UK
These statistics reflect UK opinion on the installation of heat pumps. They illustrate some of the market barriers to heat pump adoption in Great Britain.
UK and European Heat pump market
These statistics show the UK and European heat pump market.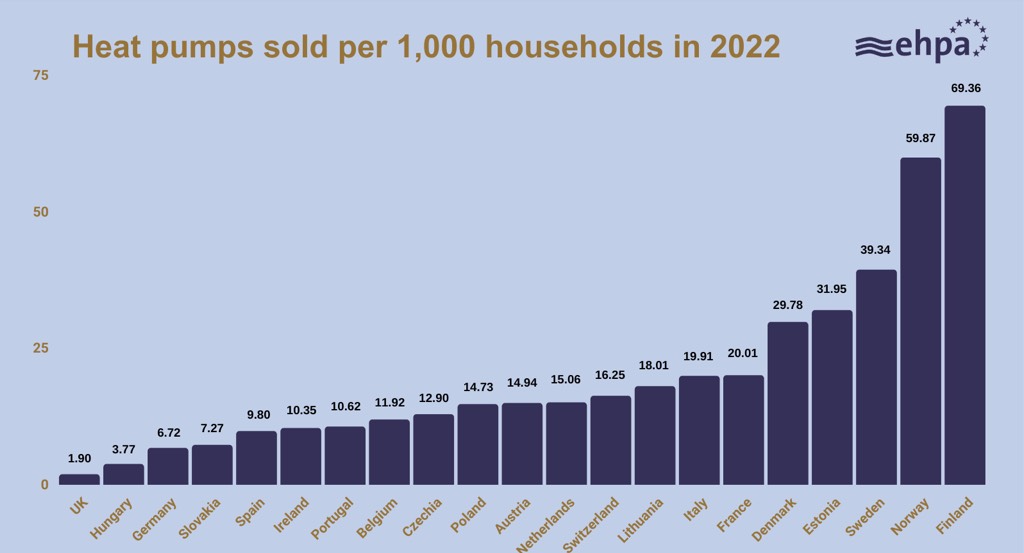 Statistics for funding packages in the UK
The Boiler Upgrade Scheme provides funding for homeowners in England and Wales who are looking to switch to low carbon technologies when heating their homes. These statistics show the uptake of this funding package and various government schemes – including those in Scotland.
UK heat pump statistics in summary
We hope that this article has provided a good overview of UK pump statistics. At WeLoveHeatPumps we are passionate about reducing our dependance on fossil fuel boilers and helping the rollout of clean heating in the UK.
If you are considering switching to a heat pump, we encourage you to explore some of the in depth articles on the website. To find out whether a heat pump could be right for your house, please check our article on the suitability of your home.
For more information on running and installation costs, please check out our article 'how much does an air source heat pump cost'. For more information on funding options in the UK, please see our page on the various government subsidies available.