Air source heat pump installation is a 3 stage process. Firstly a heating engineer will assess your property. They will then design the best system for your particular needs. Finally they will complete the installation itself. This normally takes between 3-5 days depending on the complexity.
Air source heat pumps
Rather than using non-renewable sources to heat your home, an air source heat pump harnesses heat from the outside air and compresses it. It then uses it it to heat your home and domestic water supply. Air source heat pumps tend to use less energy than conventional heating systems. They work well in colder climates as well as warmer climates.
You can read more about this process and how a new heat pump unit works here.
The first step
The first step in the installation process is for a heating engineer to assess your home. This will determine the type and size of pump and tank required.
The survey usually takes less than an hour, during which the heating engineer will look at the size of your house, the inside of your home, the number of rooms you need to heat, the heat retention of your house, and the specification of the radiators and/or underfloor heating that you currently have.
The heating engineer will then write a report based on the findings of the property survey. The report will include a plan of your house and how to install the pump for maximum efficiency. They will recommend the appropriate size of heat pump for your property, as well as the best type for your needs.
Your heating needs
Two factors are going to influence the your household energy requirements. how large your property is (home size) and how man people are living there. This will determine the type of heat pump system you require.
The local climate will also have an effect. Cold climates will obviously need more heating power than warm climates.
We have written more about this elsewhere on the site, but a professional installer will be able to give you clearer idea of what you will need.
Types of heat pump
There are two main types of air source heat pumps – air-to-air and air-to-water.
Air-to-air heat pumps act a bit like air conditioning in reverse. But instead of being a cooling system, they pump warm air into your home. A ducted system works with a central system and requires a network of ducts throughout the home. A ductless system works with a single unit. Air-to-air systems can heat an entire house, but they will not heat hot water.
Air-to-water heat pumps will heat your home and your hot water via a water tank. They radiate heat inside your house via radiators an/or underfloor piping. In the UK this type is more widespread.
Your heating engineer can advise you on which suits your house best. You can read more detail on these different types of heat pumps in our 'How Much Does an Air Source Heat Pump Cost?' article.
Some air source heat pump installations require planning permission for the outside unit. The local council grants this if necessary. It is normally not required, but your engineer can confirm this.
The report will also include a timescale for how long your air source heat pump installation will take. This can be up to five days, but for small properties it can take as little as one day.
The installation process
The installation of an air source heat pump typically takes between two and five days. It requires the skills of professionals who are able to work on both electrics and plumbing. Some homeowners opt to do this themselves to save money. But in the long run you may end up spending more. You also won't have the correct certification in place should you ever wish to sell your property.
Air source heat pump installation differs from house to house. There is a big difference between fitting a system in a new build or retrofitting it into an existing building. But there are some basic steps which are the same across all properties.
Removing your current system
If you install an air-to-air pump system, the chances are that this will link up with a traditional boiler system. In this case, the engineer will not need to remove or change your current heating system in any way.
It is different for customers replacing their current heating system entirely with an air-to-water pump. You will need a professional heating engineer who can safely remove the traditional system. This may include capping off the gas supply.
Installing the external unit
The external unit is the part of the pump system that you can see from outside your house. This harnesses heat from the outdoor air. The engineer will place it next to an external wall where plenty of air can have enough space to move around it. They will then either bolt it to a concrete base or attach it to the wall using brackets. This ensure it will stay put regardless of weather conditions.
Installing the indoor unit
The installer will drill a hole through the wall of the property, to connect the external and internal units with a cable and pipe system.
In an air-to-air system this is a very simple process of connecting the external unit to the internal fan system inside the house. This enables compressed heated air to be sent through your home.
In an air-to-water system it's a little more complex. An engineer connects an outdoor unit to a hot water cylinder inside the house. This holds the hot water to be used in taps, showers and appliances. If your house already has a hot water cylinder, you may need to upgrade it to work more efficiently with the new system.
The new hot water cylinder is then connected via pipework to your radiators and/or underfloor heating throughout the property.
Finishing
Your installer will undertake some small finishing fixes to make sure that your new system will run as efficiently as possible. They will install sensors to send temperature signals to the thermostat on your system. This ensures that the right amount of heat is produced for your home.
Ongoing maintenance
One of the appeals of air source heat pump systems is that they are very low maintenance. For the average homeowner, there isn't much for to do to keep them going.
It's important to keep the area around the external unit clear so that there is good air flow around it. You should not allow plants to grow around your unit and make sure you keep the filters and fan blades clean.
Your installer will be able to advise you on how regularly this will need to be done. They will also advise on de-icing the system in winter and refilling the antifreeze annually.
We recommend getting your system professionally serviced every 2-3 years in order to keep it running well. If you do so, it should last at least 20 years.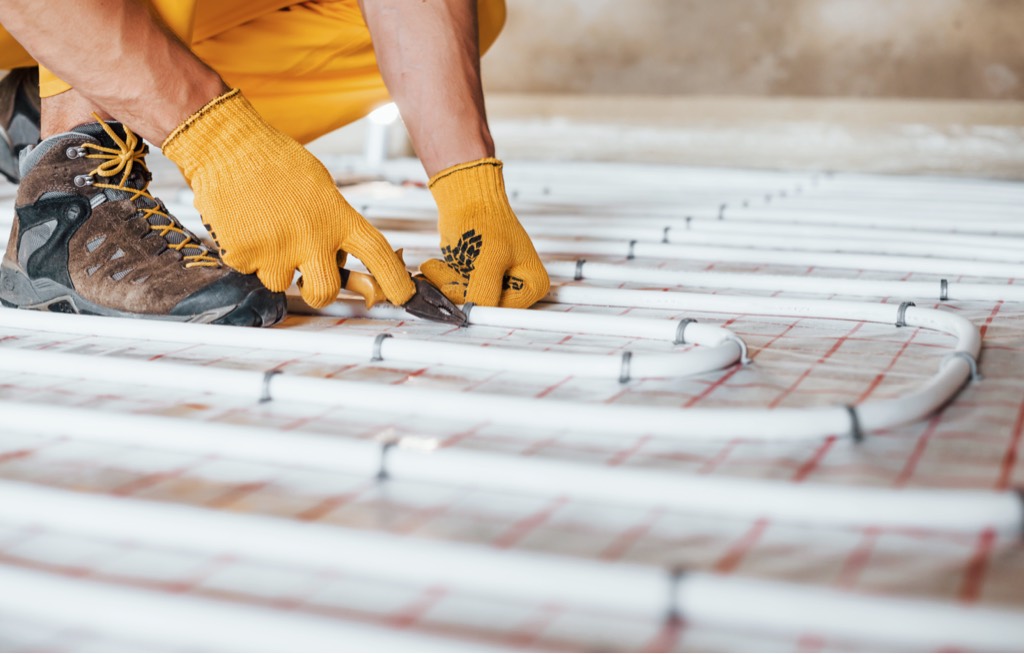 Installation costs
We estimate the cost of air source heat pump installation to be between £8000 and £18000. This includes the purchase of the system and the labor costs. The large variation here is due to the many factors involved. For more detail on this you can read our article, 'How Much Does an Air Source Heat Pump Cost?'.
We also have a full guide to the grants available to ease the cost of heat pump systems, and whether you may be eligible to apply for them.
What kind of properties suit a heat pump installation?
From 2025 it may be unlawful to install a new gas boiler in a property. As a result, more and more people are thinking about installing them. What are the main things to consider?
The type of air source heat pump
As we mentioned before, air-to-air pumps are better suited to smaller, open-plan homes. Air-to-water pumps are able to supply space heating and hot water to larger properties. Our 'How much does an air source heat pump cost?' article gives more detail into comparing the two types of pumps and what might be best for your home.
The age of your house
You can install an air source heat pump in properties of any age. But they especially suit new build properties. These can be built to the specifications needed for optimal pump efficiency. Newer properties will also be very well-insulated. This means that they can retain the heat produced and the pump will not need to work as hard.
But if you do have an older property don't worry. There are a few things that you can do to make it more efficient. This means you can install a heat pump which is smaller and cheaper to run.
What changes can I make to my house to accommodate a heat pump?
There are a number of things you can do to make a heat pump run more efficiently in an older property.
Improve your insulation
Improving the insulation of your roof, walls, and floor will significantly reduce the amount of heat lost. These are areas which link your house to the outside world. Draught-proofing your doors will also stop heat from escaping from your home easily. If your house is single glazed, you can help reduce a lot of heat loss by installing double or even triple glazing.
Optimise your central heating system
A heat pump system works best with larger radiators to make the most of the amount of energy produced by the pump. Many UK homes already have radiators that are larger than needed for a gas heating system. These suit the needs of an air source heat pump installation. However, around one third of homeowners will need to invest in larger radiators. The report from your home survey will tell you if you need to do so.
If you haven't already done it, another huge improvement to your heating system is installing underfloor heating. This method of space heating works incredibly well with air source heat pump installation. It transfers the heat around your home, spreading it efficiently across very large areas of the house.
These home improvement measures may be daunting to undertake. But the savings that you will achieve in the long term often means that it makes sense. The UK Government have launched a number of grants that help financially towards the cost of home insulation and converting to renewable heat sources. Find out here if you may be eligible for these.
How do I find a good heat pump installer?
Finding a good installer will be critical to the success of your project. You don't have to choose an hvac contractor with a formal certification, but we would recommend it.
In the UK, the main certification body is the Microgeneration Certification Scheme (MCS). Working with industry, the MCS 'defines, maintains and improves quality by certifying low-carbon energy technologies and contractors, including heat pumps, solar, biomass, wind and battery storage.'
In order for contractors to get an MCS licence, they must demonstrate familiarly with standards and competency for heat pump technology. They must also show a commitment to quality, customer care and quality workmanship.
There are a few other industry schemes such as the Heat Pump Installer Network (HPIN) that provide quality control. In our experience the best installers will often be a member of several of the bigger schemes.
Will a heat pump reduce my energy bills?
The short answer is yes. The energy efficiency of an air source heat pump is typically 3 times that of a traditional natural gas boiler. They are ideal for homeowners looking for efficient heating and energy savings.

How much you will save will depend on your monthly usage, and the current price of electricity vs gas (energy costs). This is changing on a monthly basis but we have discussed this in more detail in our article on air source heat pump costs.
What government grants are available?
In the UK there are a number of grants and incentives available to homeowners looking to reduce their carbon footprint and greenhouse gas emissions. These can be especially useful when considering air-source heat pumps. We've covered these in more detail in other areas of the site.
They include the Boiler Upgrade Scheme, which offers up to £5,000 towards the cost of air source heat pump installation. For ground-source heat pumps this increases to £6,000. They also include the Energy Company Obligation. This obligates medium and large-scale energy companies to subsidise the cost of energy efficiency improvements to houses.
If you're thinking of air source heat pump installation, it's a good idea to read our article on Funding for Heat Pumps for a full guide.