Why finding a good heat pump installer is important
For most homeowners, installing a heat pump is like dipping a toe into the unknown. It is essential to have the right partner by your side. Choosing the right heat pump installer can make the difference between a great experience and a lousy one.
In this article we give you some of the top things to look for when choosing a heat pump installer.
Finding a heat pump installer with the right certification
You don't have to choose a heat pump installer with a formal certification, but we would certainly recommend it. When you choose a heat pump installer with certification you know that they will have undergone some level of quality control. You will also have some come back if things go wrong.
In the UK, the main certification body is the Microgeneration Certification Scheme (MCS).  Working with industry, the MCS 'defines, maintains and improves quality by certifying low-carbon energy technologies and contractors, including heat pumps, solar, biomass, wind and battery storage.'
In order for contractors to get an MCS licence, they must demonstrate familiarly with standards and competency for heat pump technology. They must also show a commitment to quality, customer care and quality workmanship.
There are a few other industry schemes such as the Heat Pump Installer Network (HPIN) that provide quality control.  In our experience the best installers will often be a member of several of the bigger schemes. 
What questions to ask your installer
As with choosing any kind of tradesperson, it always pays to ask the right questions at the beginning. This can help you assess who might be the right fit, and weed out the poorer quality applicants.
Their level of experience?
Firstly, you should try to establish their level of experience.  This can be done by obvious questions – such as how long they have been in business and how many installations they have performed.  It is important to always ask them how many installations they have performed in houses which closely match your own.  As we have discussed elsewhere on this site, there is a big difference between installing a heat pump in a modern, well insulated bungalow, vs a draughty old Victorian terraced house.  As far as possible you want a heat pump installer who is familiar with the particular demands of your home. 
Who will actually perform the installation?
Secondly you should ask who will actually be performing the installation. Will it be the person you are speaking to, will it be a more junior member of staff or will it be sub contracted to another company entirely. Under the MCS rules, a qualified installer can sub-contract the work to a non-qualified company, providing their work is checked and signed off by the qualified installer.
What is their approach to heat pump technology?
Lastly, you should ask about their 'approach' to the technology.  This might sound a bit odd, but different heating engineers will have different ways of approaching a job.  For example, some will always stick with one manufacturer whereas some will use the whole of the market.  Some will prefer to go for a higher output pump which will save on radiators, but might be more expensive to run.  Conversely, some may prefer to specify a cheaper, lower output pump, which could mean an expensive radiator upgrade. 
Find out how they conduct the heating survey
The first stage of any heat pump installation is the heating survey.  This is where the heating engineer will come and assess your home and determine what kind of heat pump system will work best for you.  This step of the process is crucial.  The wrong decisions here can have a catastrophic effect on the final performance of your system.
Don't forget, it's much easier to fix any teething problems with a heat pump installation if the system has been corrected specified for the home it's going into.
Make sure you establish how your potential installer will conduct their heating survey. Always ask for the full breakdown of how the correct system will be calculated.
Aftersales and warranty
Even the best installers will occasionally have to come back and fix some problems. Having a good aftersales process is crucial. Ask your potential installer how their aftersales process works and ask them to give some examples of how they managed this with other clients.
Find out what kind of warranty they provide and whether it is 'insurance backed'. This means that the warranty will still be valid even if the installer goes out of business.
Can they provide references?
And of course, always check reviews and ask for references.  It's also a good idea to check how long they have been in business and the state of their financial affairs.  In the UK, you can do this easily at Companies House.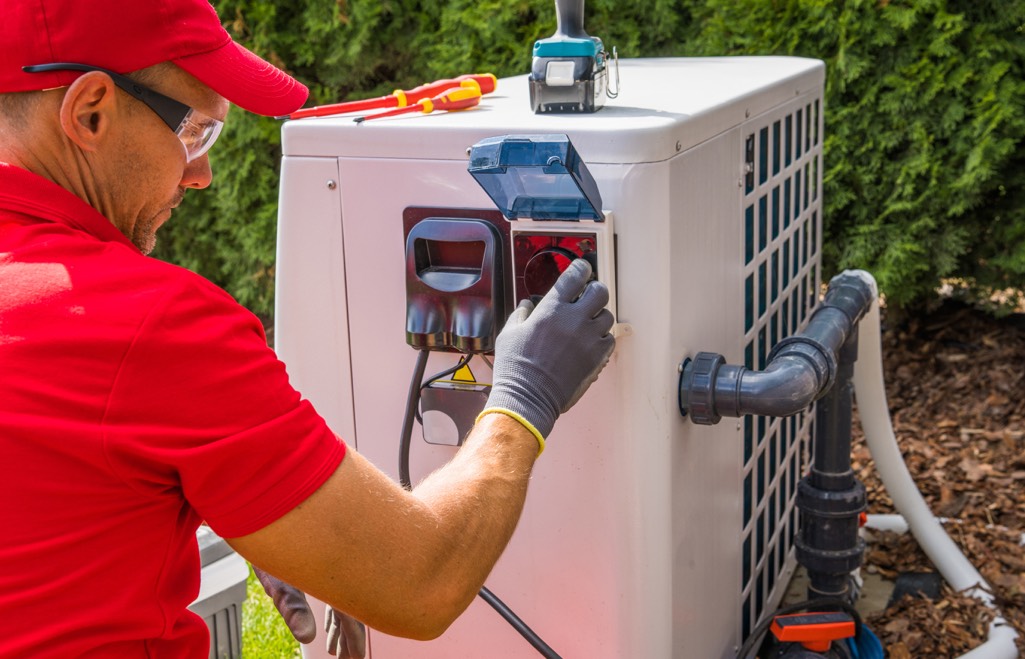 What questions to should your heat pump installer ask you?
It's also important to observe what questions your potential installer asks you. This is something that is often overlooked. But if it is done carefully, it will give you some insight into the type of tradesperson you are dealing with. If your installer asks the following questions it's a good sign that they are thorough in their approach.
Do they ask what you are looking for a in a heating system?
Your installer should ask you why you want to switch to a heat pump system. They should seek to understand your motivations to provide you with the right solution.
For some customers, it's about saving money.  For others, it's about reducing their carbon footprint.  Once a good heat pump installer understands your motivation they can make sure that they recommend the right system for you.
Does your installer ask you about the type of house you have?
It's a good sign if your installer is asking lots of questions about the make-up of your house.  This is vital to insuring you have a successful heat pump installation. Unscrupulous tradespeople will want to get as much business through the door as possible.  They will be much less concerned with getting the right outcome for you.  
If your installer asks very few questions about your house – or dismisses any concerns you have about heat retention, insulation etc – run a mile.
Do they ask questions about your household and your energy usage?
It's not just about how well your house retains heat.  It's also about how much energy your household requires.  The energy requirements of a one person home will be very different to a family of 4.  Your heat pump installer should ask enough questions about your household to get a understanding of how much energy you require. 
Make sure their payment terms work for you
It's normal for a heat pump installer to ask for you some money up front. This allows them to secure the job and also to purchase materials. However if they ask for more than 50% upfront then be wary. Ask them what their payment terms are once the job has finished and this can vary largely between installers.
If you are applying for funding via the Boiler Upgrade Scheme, your installer will apply for the grant on your behalf.  The value of the grant will be taken off the final price that you pay. 
You'll get much more protection for the job is you can pay by credit card. If there are any issues you'll be able to do a section 75 claim. Failing this, although it's not as good as a credit card, a debit card payment will give you some protection.
You should try to avoid paying by bank transfer as this offers very little protection if things go wrong. As for cash, we shouldn't need to say it, but in this day and age it's best avoided.
How to find a good heat pump installer – in summary
We know that installing a heat pump can be a daunting experience for home owners. We've tried to provide a list of things to focus on in this article, to make the experience a little easier.
If you're new to heat pumps, please check out our articles on how much does an air heat pump cost and air source heat pump installation , to see what might be required.