Overview
Installing a ground source heat pump is a big project, and this may be off-putting for some homeowners. But once you complete a ground source heat pump installation you'll be able to benefit from huge efficiency savings on your bills.
Ground source heat pumps harness heat from underground, where the temperature stays at 8-12°c all year round . They then use it to heat homes and domestic water supplies. You can find out more about how they work in our article 'What is a Ground Source Heat Pump?'.
How do you install a ground source heat pump?
There are a few different types of ground source heat pump – closed and open-loop, and horizontal or vertical systems. Although the installation for each type of system differs, the sections of the process can broadly categorised into three stages: pre-installation steps, the installation itself and post-installation steps. We will look at each stage below.
Pre-installation steps
Surveying your property
Before any installation, an engineer will assess your property. This should not take longer than a day. The inspection will determine what size and type of heat pump will best suit your property. This will depend on the size of the house, its efficiency in heat retention, and how well your current heating system (your radiators and/or underfloor heating) transfers heat.
They will also assess the geology and hydrology of the ground where you will lay the pipes. In some rare cases (such dry gravel or sand) the thermal conductivity of the ground is much lower than normal, and the system will need to be adapted.
Producing a report
The engineer will then write a report summarising the results of the property survey and recommending the best type and size of heat pump for the energy needs of your house. This will include a plan of your house, information about the geological conditions of the site, and how to install the pump for maximum efficiency.
The report will also advise on whether Planning Permission may be required from your local council. Normally, this is only the case if you are working on a listed building, or you live in a National Park or other protected area.
The engineer should also include an estimate of how long the installation takes to complete. At least 7 days is normal.
Ground source heat pump installation itself
Excavating the ground
Qualified professionals will excavate the ground to lay the pipes. This will involve either boring down up to 150m into the earth for a vertical array, or digging shallower trenches 1-2m in depth to lay a horizontal array.
In most cases you can expect the excavation to take 1-2 days. However, it will depend on the size of your work team, and the geology of the ground on site. Ideally, we would advise undertaking the groundwork in the warmer, drier seasons of the year when the water table is lower and conditions are easier.
Laying the pipes
The next step is to lay the pipework into your newly excavated ground. The engineers will then fill the pipes with thermal transfer fluid. This harnesses the heat from the ground and transfers it into your home.
Removing and/or upgrading your current heating system
With most installations, the engineer will need to remove some elements of the old heating systems. They will need to cap off gas supplies and uninstall traditional boilers.
You may also need to upgrade your radiators and underfloor heating system in order to make them compatible with your new heating system. This is covered in more depth below.
You can expect this process to take 3-4 days if you have just one person working on it, or less time if you have a larger team.
Making space for the internal unit
The part of the pump system which sits inside the house is around 2m x 1m x 1m, approximately the size of a large fridge. It's best to install this near to the external pipework system. Some homeowners choose to put it in a basement, utility area, or outbuilding.
Installing the internal unit
The last part of the installation connects all the pieces together. The outdoor pipework is connected to the indoor pump, and this in turn is connected to your house's pipework, water tank and heating system.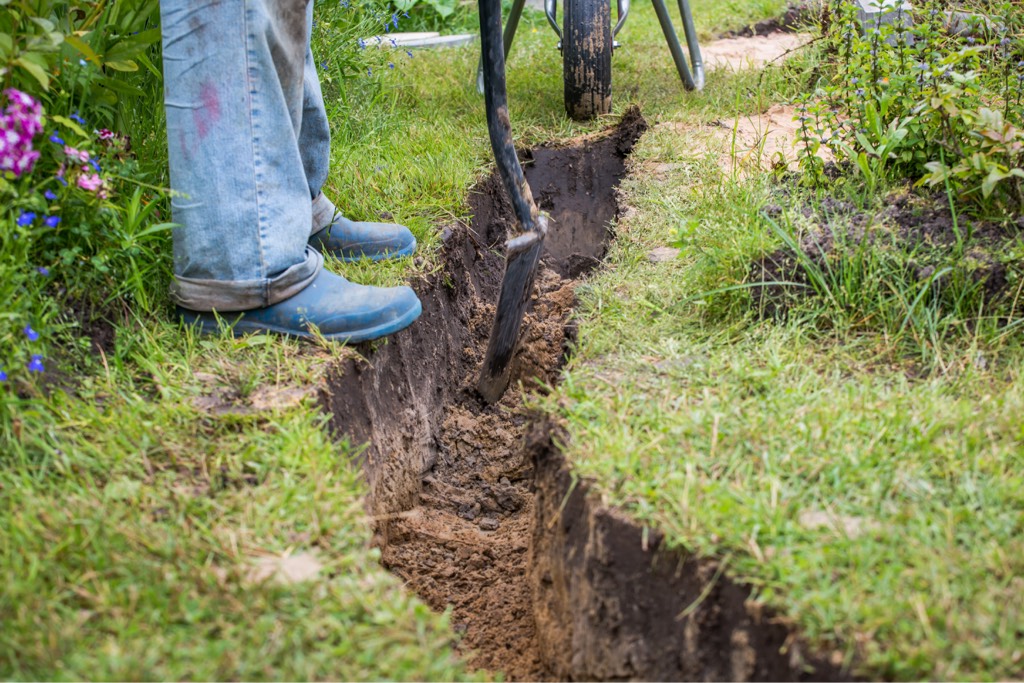 Post-installation steps
Finishing
A few further steps are required after installation to ensure that the heat pump system will run efficiently. This includes installing the sensors which transfer temperature signals to the thermostat. This makes sure that the heat produced matches the energy needs of your house.
Maintenance
Ground source heat pumps are very low maintenance compared to other home heating systems. Thankfully there aren't many jobs on the to-do list to keep them running smoothly.
You can make seasonal adjustments to make sure that the heat pump is working to maximum efficiency during the warmer and cooler seasons. We also recommend that you have the system serviced every 2-3 years to maximise its lifespan (up to 25 years).
How much does a ground source heat pump installation cost?
We estimate that the cost of converting your current heating system to a ground source heat pump will be between £20,000 and £40,000. The large range is due to large number of variables that affect cost. For more detail on this you can read our article 'How Much Does a Ground Source Heat Pump Cost?'. We have also written a complete guide on grants and financial help available.
What kind of properties suit a ground source heat pump installation?
Different households have different energy needs and ground source heat pump installation suits some properties better than others. Here are some of the factors that count.
The types of ground source heat pump installation
Unlike an air source heat pump system, ground source heat pumps can heat any style of house, whether it's open plan or more traditional. However, some types of system particularly suit certain types of properties.
Open-loop systems use water from a nearby water source, such as a lake or river, to harness heat from the ground. They are much cheaper to install as they don't require such extensive infrastructure. But to install a system like this you will need to be closely located to a suitable body of water.
A horizonal array is much cheaper to install than a vertical array, but does require at least half an acre of space. For this reason, householders with enough land will normally plump for a horizontal array. A vertical array requires a lot less space but is more expensive to excavate. This may be your only option if you don't have much of a garden.
For a fuller comparison of the different types of ground source heat pump please see our 'What is a Ground Source Heat Pump?' article.
The age of your house
You can fit a ground source heat pump to practically any property, regardless of age. But they do especially suit new build properties. These are more likely to be built to a higher energy efficiency standard. New-build properties may even incorporate the groundwork alongside the building of the house. This means the external pipework is already installed and no excavation is required.
If you want to retrofit a ground source heat pump system to an older property it's almost certain that you will need to make some energy improvements. Although the cost of these can add up, it will save money in the long run. You will need a smaller system – reducing the cost of both installation and usage.
What changes can I make to my house to accommodate a ground source heat pump installation?
There are a number of things that you can do to optimise your house to use a heat pump more effectively. If cost is an issue for you, have a look at our guide to grants which can help financially.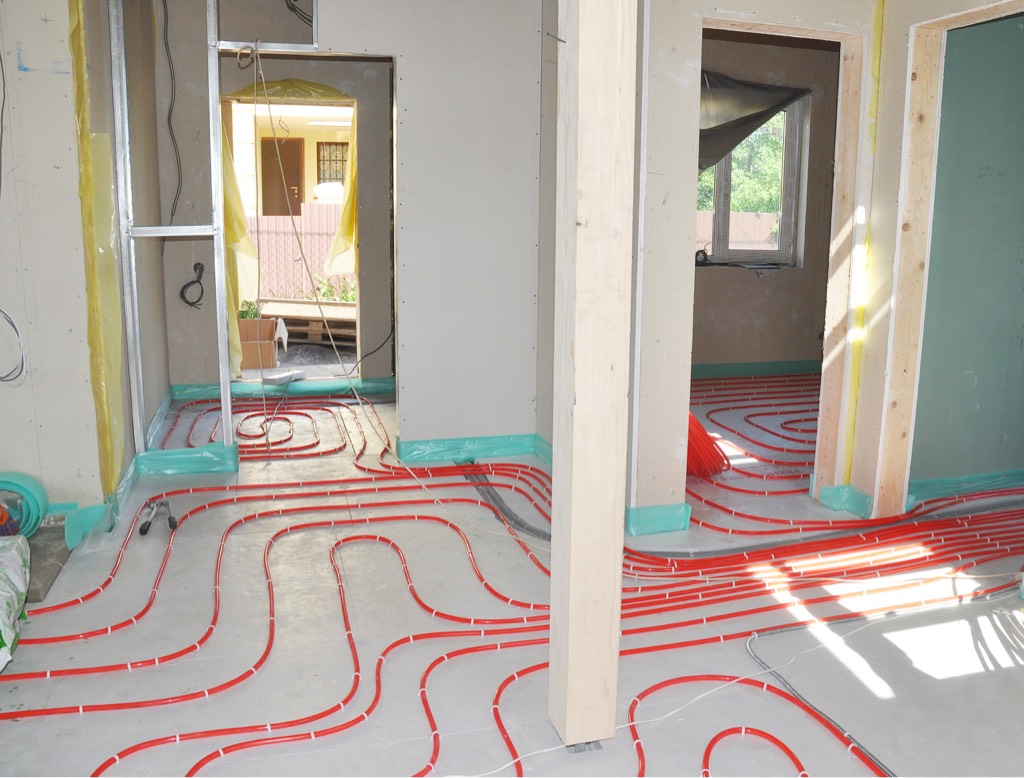 Improve your insulation
A heat pump produces enough heat to keep the house at a steady temperature. The quicker that heat escapes, the harder the pump will have to work to keep your home warm. This increased energy consumption and the size of the pump needed.
You can reduce heat loss by improving your roof, wall, and floor insulation, as well as draught-proofing doors, and double or triple-glazing windows.
Optimise your central heating system
Heat pump systems work at a lower temperature than traditional gas systems. As such, they generally need bigger radiators than you find in older houses. An estimated one third of UK households will need to upgrade their radiators to install a heat pump. Your home survey will tell you if this is the case for you.
Underfloor heating is by far the best way to make the most of a heat pump system, as it transfers the heat produced across large areas of your house. You may consider using underfloor heating pipes alongside, or instead of, radiators in your home.
Can I get a ground source heat pump installation at my property?
Although the initial investment in a ground source heat pump can be off putting, the savings on monthly bills will pay off over the long lifespan of the system. In addition, you'll be helping to tackle the climate crisis.
The UK government has indicated that the days of traditional gas boilers are numbered. We all need to look at alternatives to heat our homes. We hope that this article has given you some insight into what a ground source heat pump installation entails.